Reading Time:
4
minutes
Winter is well and truly on its way, and if you're anything like me, you're probably not ready to say goodbye to summer (queue violins). But the good news is that you don't have to because we've found a place where summer never ends, a tropical paradise of white sandy beaches, emerald rainforests, stunning coral reefs and an emerging food scene that will blow your mind. Interested?
Well, read on to see why you should make Cairns your next holiday destination.
The promise of an endless summer and kicking back on a tropical beach with a frosty beer in hand may be reason enough to visit Queensland's tropical paradise but believe us when we say that Cairns has sooo much more to offer. To make sure your holiday is unforgettable, we've compiled a list of our top five things to do in Cairns and its beautiful surrounds.
Whether you're a southern iceberg looking to defrost, an intrepid explorer with itchy feet or a lady of leisure who just wants to relax in the sun, Cairns is where it's at.
1. Cape Tribulation day trip
Contrary to what the name might have you thinking, Cape Tribulation has very few trials or… you get it. There are ancient rainforests, exotic birdsong, deserted beaches and crystalline freshwater creeks. For the budding David Attenborough's out there, take a camera because this is proper nature-lover territory. If you're more of a Steve Irwin, you may even get to see a saltwater croc (please don't wrestle them, that guy was crazy). For the best way to get about check out Uncle Brian's Tours (kudos for deciding on such a great name!)
2. Bungy Jump
Yep, bungy jump you chicken. Sounds scary? It is. But that rush! So worth it. Cairns is home to the ONLY bungy jumping tower in Australia. It's 50 meters high and towers over the top of a beautiful rainforest. The AJ Hackett Bungy Tower is one of those things like going on the London Eye or up the empire state building in New York. It's iconic, it's breathtaking and totally memorable. You can get an all-day jump pass and try all the moves and styles – classic swan dive or perhaps backwards handstand? If heights ain't your thing, there's a bar. A very good bar. See you there 😉
3. Waterfall and Forest Tour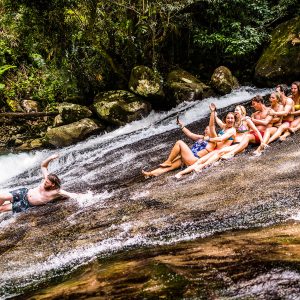 Grab your hiking boots and swim trunks (or bikini), because we're off to explore to some of the most amazing forests and waterfalls that Australia has to offer. Uncle Brian's have put together an incredible day trip that will see you sliding down a three-stage rockslide into a pristine water hole, swimming behind a 30-metre waterfall in the middle of a rainforest and exploring a volcanic crater. To top it all off, they'll take you to a tropical tea house for an unforgettable lunch and you'll even get to meet a platypus, one of the worlds cutest curiosities! Click HERE to find out more.
4. Dive, Sail and snorkel the great barrier reef
Sabastian the Crab was right when he said that everything's better down where it's wetter, and I think it's safe to say that diving The Great Barrier Reef is one of the best underwater experiences you're likely to have anywhere in the world. Leave the troubles of the surface behind, dive below the sparkling waves and spend the day just floating about with turtles, colourful fish, and placid little reef sharks.
Take a cruise on a classy catamaran and explore The Great Barrier Reef with an amazing team whose environmental credentials and love of their job (I'd love my job too if it was scuba diving every day) have earned many awards including the Australian Tourism Award for Adventure. Check out the Passions of Paradise Reef Tours.


5. Stay in the best location
There's nothing worse than showing up to your holiday accommodation only to realise that you're forty minutes out of town, on the edge of the train tracks. With Global Backpackers, you'll never have to worry about location because, well, they've got some of the best locations in Australia. The exciting news is that Global Backpackers Cairns are just about to reopen the doors of the famed waterfront hostel to show off an incredible new fit out. Kick back by the sparkling lagoon pool and catch some rays, or retreat to the shade of your private balcony and let the sea breeze soothe that sunburned skin (should have packed the sunscreen). Oh, and did we mention there's a bar, a very good bar at that (Rattle N Hum), where you can meet like-minded travellers from all over the world to share your adventures with.  Oh, and you get a cheeky discount on all tours too!